Cash Donations
Donate to our Projects
Your donations will be assigned direct to our projects on Betterplace. In order to achieve our goals in the fields of environmental education and capacity building, we depend on donations!
Our projects on Betterplace you will find here!
If you would like to support our work, you can easily donate online via direct debit, credit card or PayPal here. Just fill in the donation form and click on "Donate now". Please note: Our partner betterplace transfers your donation directly to Proyecto Mosaico and issues you a receipt for your donation.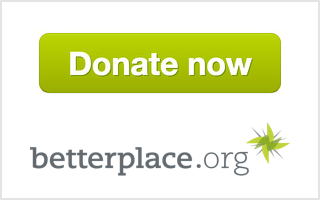 If you would like to donate to Proyecto Mosaico via bank transfer, here are our donation accounts:
Badische Beamten Bank
Proyecto Mosaico e.V.
BIC: GENODE61BBB
IBAN: DE45 6609 0800 0005 3657 59
Bank für Sozialwirtschaft
Proyecto Mosaico e.V.
BIC: BFSWDE33MNZ
IBAN: DE76 5502 0500 0008 6322 00
Receipts for donations
In Germany, we are officially recognized as a nonprofit organization. For donations up to 200 €, the deposit receipt verified by the bank can be used as a donation receipt. We also gladly issue a separate donation receipt. If you need a donation receipt, please clearly specify your name and your entire address on the remittance slip. We are not able to issue any donation receipt without this information. We send donation receipts at the beginning of the following year. If you need the receipt earlier, please send an eMail to kontakt@promosaico.org.
Donate to our Partner Organizations
You can also donate to our partner organizations via Proyecto Mosaico. We gladly transfer your donation to our current and non-profit partner organizations! If you are interested in donating to one of our partner organizations, please let us know before donating and contact: kontakt@promosaico.org!
Why do we forward donations only to our current and non-profit partner organizations?
It is important for us to know that the donations we forward will be used in a sustainable way and for the particular purpose. Therefore, it is necessary that we are in contact regularly with the organization for which the donation is intended. Thus, we confine the forwarding of donations to our current partner organizations.
Unfortunately, we are only allowed to forward donations to organizations that are officially registered and acknowledged as nonprofit organizations. Before we forward the donations, we need a copy of the current confirmation of the registration and the acknowledgment from the organization. If we are unable to verify this confirmation, we are not able to forward the donation.
Costs of forwarding the donations
Forwarding the donations to our partner organizations is a large administrative effort for us (checking the possibility of the donation and consultations with donors, verifying the documents, forwarding the donations, issuing donation receipts to donors). We still would like to continue to provide this service to our partner organizations, as they have already benefitted from it in the past.
Therefore, we keep 10% of the donation amount for our needed administration fees. The remaining 90% will be transferred to the partner organization. The total transfer costs will be at the expense of the addressee.